The American multinational consulting company McKinsey & Company has released a market research report that outlines the market prospects of the high-end jewelry, high-end and ultra-luxury watch industries in the next five years.
McKinsey said that these are two large-scale industries, occupying a major share of the global luxury goods market, with annual sales totaling more than $330 billion.
During the epidemic, sales in the high-end jewelry industry fell by 10% to 15%, and sales of high-end and ultra-luxury watches fell by 25% to 30%. However, McKinsey expects these two industries to recover in the next few years.
Specifically, due to China's continuing restrictions on international travel and the increase in the number of domestic duty-free zones, growth is expected to be driven by young consumers and the Chinese domestic market. Currently, Asia accounts for 45% of global jewelry sales and 50% of global watch sales.
In the next five years, the Asian market, led by China, is expected to grow further. The sales growth rate of high-end jewelry will be between 10% and 14% per year, and the sales growth rate of luxury watches will be about 4% per year.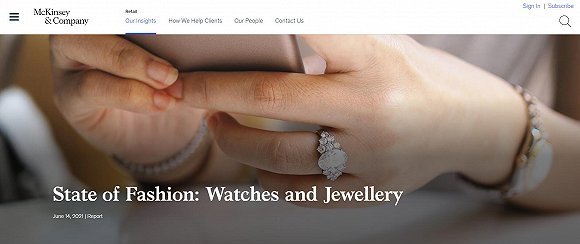 McKinsey predicts that in the next 5 years, the overall growth rate of the global jewelry market will be between 3% and 4% per year. Among them, branded high-end jewelry is about three times the growth rate of the overall jewelry market. From 2019 to 2025, branded high-end jewelry will grow at a compound annual growth rate of 8% to 12%. In the future, driven by digital channels and sustainability, mature brands will have a greater market share.
McKinsey expects three major changes in the fine jewelry industry:
Digitization: McKinsey estimates that global online sales may grow at a rate of 13% to 21%. But it reminds that industry participants must carefully consider digital channel transformation to avoid underestimating the importance of a humanized digital experience. In fact, online consumers expect the same level of customer service and attention to detail as in stores. By 2025, about 80% of shopping will still be done in physical stores, so a seamless experience across channels is a must.
Sustainability: McKinsey estimates that by 2025, 20% to 30% of global jewelry sales will be affected by sustainability-oriented consumers. Therefore, market participants must embrace sustainability in order to win the trust of young consumers and develop leadership positions.
New jewelry brands are emerging: high-end jewelry currently only accounts for 20% of total market sales. But the market share of luxury brands is rising-it is estimated that by 2025, branded jewelry will occupy 25% to 30% of the market, equivalent to 80 billion to 100 billion US dollars.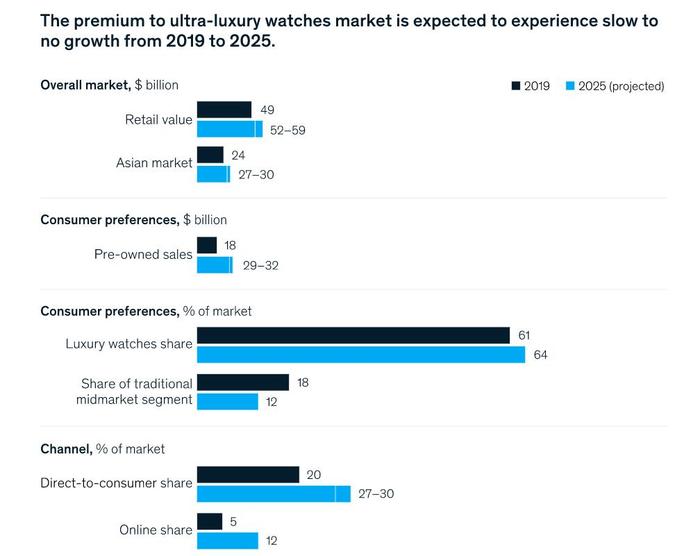 From 2019 to 2025, the watch market will grow relatively slowly
In the field of high-end and ultra-luxury watches, McKinsey expects a relatively slow growth rate. From 2019 to 2025, this market will only grow by 1% to 3% annually.
McKinsey expects three major changes in the field of high-end and ultra-luxury watches:
Retail channels will be fully transformed: offline retail has been the main source of income for the watch industry for decades, mainly through multi-brand retailers to contact customers. But today, consumers demand direct interaction with brands and look forward to a better online shopping experience. For this reason, watch manufacturers will expand the scope of their retail business and ensure customer experience through dynamic omni-channel means. This is a major challenge for brands and retailers. It is estimated that by 2025, annual sales of 2.4 billion US dollars will be transferred from multi-brand retailers to the brands themselves.
The mid-range market will shrink: under the squeeze of the fierce competition from digital native brands and fashion brands, as well as the rapidly growing category of smart watches, the mid-range market in traditional watches is facing increasing pressure. Many consumers in this segment are currently turning to luxury goods. McKinsey predicts that unless traditional mid-range brands respond, total sales of mid-range watches may decrease by $2.5 billion by 2025.
Usher in a new era of second-hand watches: McKinsey said that second-hand watches will become the fastest growing part of the industry. It is estimated that by 2025, the sales of second-hand watches will reach US$29 billion to US$32 billion. Major brands need to work hard to seize opportunities from this change, and professional e-retailers need to improve their business models in the increasingly fierce competition.